44 Roses
Original screenplay written by Jill St Anne.
44 ROSES is a romantic comedy set in London and Mumbai. A bit like Bridget Jones meets Bend it Like Beckham, but set against the backdrop of the tensions between India and Pakistan. Juliette, a sweet and beautiful English business journalist meets handsome Rajiv, a successful computer whiz kid, on a business trip to India. After they both survive the most recent terrorist attack in Mumbai their bond becomes stronger and they fall madly in love. Juliette suspects that Raj is a bit younger than she is, but doesn't give it a second thought until it comes time to celebrate her 44th birthday. Rajiv has planned a surprise trip for them where he intends to ask Juliette to marry him, but then a near tragedy strikes.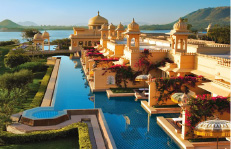 When Rajiv's mother hears her only son is dating an older divorced white woman from England – oh my(!), she has a heart attack and falls to the floor. Rajiv rushes her to the hospital, and in the meantime forgets about Juliette, who is sitting patiently at home waiting for Rajiv to whisk her away on a romantic min-break.
When Rajiv's mother recovers from her heart attack, she guilt-trips her son into ending his relationship with Juliette. Due to family pressure, Rajiv feels that he has no choice but to break things off with the woman he loves. Instead of telling her outright, he gently tries to cool things off, but Juliette knows better. Her sharp journalist instincts are telling her it is OVER – and for good. She nearly cries a river, but like a true Brit, she soldiers on, packs her bags and flies back to London where she throws herself into her work and even manages to arrange a charity cricket match between India and Pakistan to raise money for the families who lost loved ones in the November 2008 massacre.
Back in Mumbai, the mother sets Rajiv up with several eligible beauties from good Indian families. One comedic scene follows another in this lively vignette of music, dance and classically beautiful Indian women who are dressed to kill in their exquisite saris, henna painted hands and expertly applied make-up – all a stark contrast to the natural good looks of the 'girl-next-door' Juliette. Rajiv obliges his mother and goes on these arranged dates, but cannot stomach the vacuous nature of the women and their intention to get married just to be married. But mostly he realises that he loves Juliette and everything she stands for. Following his heart and his desire to pursue happiness, he defies his mother and does what every female heroine wants their male lead to do: He chases the woman he loves back to England. Several twists and turns eventually culminate in a heart-warming An Affair to Remember ending where the boxes of tissues will be sure to be passed around.
44 ROSES is the perfect marriage of Hollywood and Bollywood: Colourful characters paired with a romantic love story and stunning locations set throughout India whilst also showcasing the beauty and charm of London. But mostly, the story proves that Love Will Conquer All.