Book Signing Photos
Garden Party in London, June 8th, 2015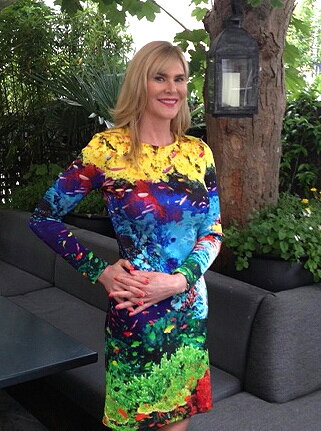 All done, no more books to sign!
Book signing at Lilly Hastedt's jewellery store in Chelsea, June 11th, 2015


The Italian Connection
reprinted from SFluxe (www.sfluxe.com)
Look out, Danielle Steele, there's a new gal in town. And she drives a Ferrari.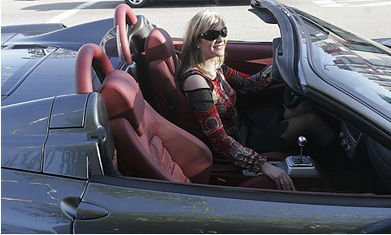 I went to the book launch on Thursday of Jill St. Anne's latest, "The Italian Connection." It was a festive evening, as it also happened to be the birthday of the author's lovely mother, Judy Fairchild.
Judy was beaming as she watched Jill inscribe the books for fans and friends who had lined up at Emporio Rulli Gran Caffe. The event was hosted by Claudia Ross, elegant in a long black dress that Madonna designed for H&M (you never would have guessed it was from H&M!)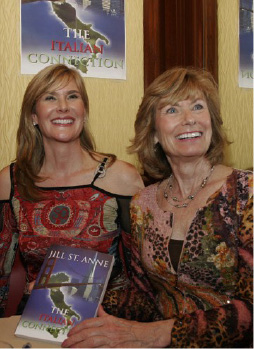 The book is fabulous reading, part romance and part intrigue. I'm halfway through it and have a hard time stopping myself from skipping ahead to find out how it ends!
With its colorful settings in San Francisco and Tuscany, The Italian Connection would make an absolutely perfect movie. I picture it like "Romancing The Stone," in the way it's romantic and exciting, and appeals to all sexes and ages — something that's really hard to do. If Angelina Jolie can't take the starring role Uma Thurman would be just fine, thank you (work on it, Hollywood.)
Pat Murphy of the San Francisco Sentinel was also at the party — and has a report here. Photos above by Sentinel photographer David Toerge.
Reading in London, September, 2006
Jill's first UK book signing. Shown here with her daughter, Lindsay, at her home on Wetherby Gardens in London.
Durango Book Reading
reprinted from Durango Herald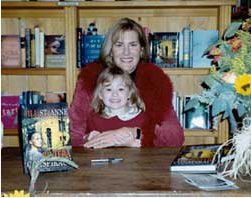 Local Realtor Judy Fairchild is one proud mama this week. Her daughter Jill Zajicek Wickersham is in town to sign books for her debut novel, The Riviera Conspiracy. The book comes from some of Wickersham's own experiences in banking and international business as well as her life, which includes homes in San Francisco, London and British Columbia, Canada. It is a combination of thriller and romance, with lots of international travel and national security in the balance. Sounds like a good read for a cold winter night. Writing has worked well for the mother of 3 1/2-year-old Lindsay, who will be accompanying her mother to Durango for the big event. The book is available in hardback, and Wickersham will be signing copies at Maria's Bookshop from 5 to 7 p.m. Friday. This is the new author's fourth signing, after signings in Chicago, San Francisco and Portland, Ore.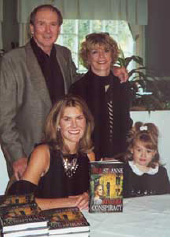 Chicago signing attended by over 100 people
Jill with her daughter Lindsay, her father David Zajicek and his wife, Lou O'Brien Zajicek.
---
San Francisco reading on November 21, 2002 draws standing-room only crowd
Kate Kelley, the events coordinator for the Books Inc. store in the Marina said it was their most successful event of the year.